Congratulations to Luke (skywalker18) for being our inaugural Ride of the Month! We are currently working on a questionnaire format for the winners to answer and on some new photos, but I felt since that is taking us so long, I wanted to at least get Luke recognized!! Please stay tuned for more pictures and information!!
Luke - skywalker18 and his car Poison Apple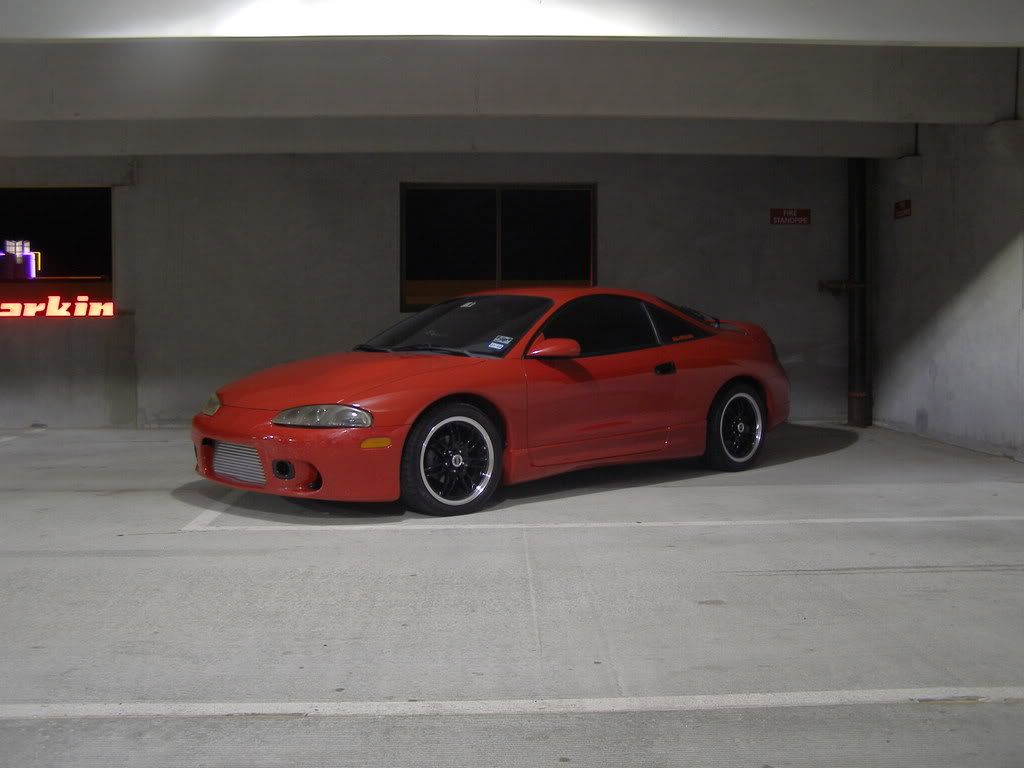 Car:
1995 Mitsubishi Eclipse GS-T
Original Color:
The red that you see on it.
Engine:
2.0L 7-Bolt
Eagle Rods,
Wiseco 8.3:1 pistons
ARP's
DSM Link
EVOIII 16G turbo (unplugged wastegate actuator)
EVOIII O2 housing
FP Race exhaust manifold
FP Intake pipe
RRE 2.5"-3" down pipe cat delete
3" Thermal Research Exhaust
ETS Pro-Race FMIC
modded 1G BOV
FIC 1050cc injectors
Dual 255HP Walbros in the tank
SS -8an feed line and -6an return
Aeromotive AFPR
ported head with 5 angle valve job
Supertech dual tension springs
Supertech titanium retainers
Supertech +1mm over intake and exhaust valves
revised lifters
FP2 cams
Drivetrain:
Stage 2 TRE built tranny with shot peened gears
Quaiffe LSD
16% taller 5th gear
SS clutch line
ACT 2600 w/ sprung 6-puck disc,
XACT lightened flywheel
Interior:
Full interior
Defi boost gauge
AEM Wideband
Suspension:
Tokico Illumina 5-way adjustable struts with Eibach Pro-kit springs
TPM drilled and slotted front rotors
Hawk brake pads
Velox 17" x 7.5" wheels
225/45R17 B/F Goodrich G-Force
What made you choose this car?
Wanted a turbo car. This one was lady owned, bone stock, only 75K on the clock, and exactly what I wanted to spend.
What are you goals for the car?
+200MPH
What's your favorite thing about your car?
It is aggressive enough to pull bikes on the highway, yet subtle enough to daily drive.
When people see your ride, what do you want them to say?
"That car is slow."
How long have you owned this car?
Exactly 5 years.
Is there anything unique about the history of this car?
It was bone stock when I bought it and I knew nothing about online forums.
Who helped you build this car?
Me, myself, and Casey (turboinline4)!!! Nothing like changing out a water pump in the freezing cold on New Years Eve. Big thanks to him and the rest of the Campbells!! All the DSM forums I have been on in the past. They have been a great source of information and friends.
What don't you like about this car?
It's slow.
What would you change if you could?
Bigger turbo, bigger injectors, intake manifold, slicks, another car so I don't have to DD this one........It is a never ending list.
On a scale of 1 to 10, how satisfied are you with the outcome of this project?
"A 10, a 10, a fucking 10!!!" 455ft.lbs on a 16G and a 2.0L, is "gettin'er done" if you ask me.
What is your favorite place to drive this car?
Any long, smooth, desolate, straight stretch of road where I can top out 5th. One of these days, I will get out to Bonneville.
If you had to name your car, what would you name it?
The Poison Apple. Hopefully, it will be able to take out Snow White....
What was your previous project?
A 125cc shifter Kart.
What is your next project?
1966 VW Beetle. Chopped, extended, fuel injected, and boosted.
What one word best describes your car?
Slow
Top 3 times your DSM left you stranded:
1. Blowing my motor because of a pinched plug wire.
2. Blew off an intercooler pipe on the highway. After I got it back together, the battery died. I had to push start it in the shoulder
3. When I lived in NC, the oil seal on the filter housing blew out. This left a 30 ft oil line that is still there.